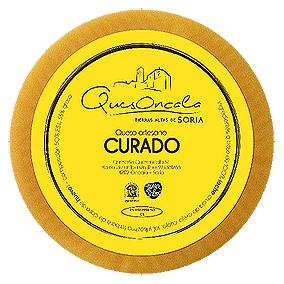 made with 100% raw milk from sheep, curdling agent and Lysozyme (from egg white)
composition: (Per 100 g) 50% milk solids, fat: 36.4 g, saturated fatty acids: max. 6.9 g, carbohydrates: <0.2 g, sugars: <0.2 g, protein: 23.9 g and salt: 0.662
store in a refrigerator
expiry date: no .: 1 year from the manufacturing date
vacuum packaging in pieces of 600 g / 1,100 g / 2,500 g
presentation in shrink bags packed with exclusive use for food in sizes of approximately* 600 g / 1,100 g / 2,500 g
*being artisan handmade cheeses no piece weighs the same
---
sheep's cheese cream >> sheep's cheese 42.34%, water, sheep's milk cream, flux salts E-452, preservative E-202 and aroma · store in a fresh and dry place · shelf Life: 24 months  ·  weight of each jar: 110 g
handmade

100%

100%

pure taste

75%

75%
from the Soria region

100%

100%

ripened

80%

80%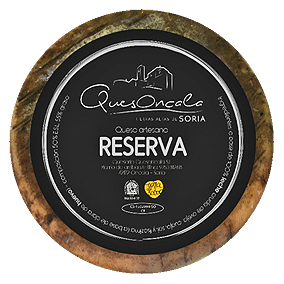 made with 100% raw milk from sheep, curdling agent and Lysozyme (from egg white)
composition: (Per 100 g) 50% milk solids, fat: 36.4 g, saturated fatty acids: max. 6.9 g, carbohydrates: <0.2 g, sugars: <0.2 g, protein: 23.9 g and salt: 0.662 g
store in a refrigerator
expiry date: no .: 1 year from the manufacturing date
presentation in shrink bags packed with exclusive use for food in sizes of approximately* 600 g /2,500 g
*being artisan handmade cheeses no piece weighs the same
handmade

100%

100%

pure taste

75%

75%
from the Soria region

100%

100%

ripened

100%

100%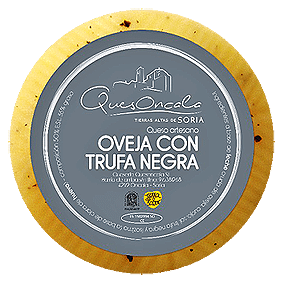 SHEEP'S cheese MADE WITH BLACK TRUFFLE
made with 100% raw milk from sheep, curdling agent, black truffle and Lysozyme (from egg white)
composition: (Per 100 g) 50% milk solids, fat: 37.7 g, saturated fatty acids: max. 6.9 g, carbohydrates: <0.2 g, sugars: <0.2 g, protein: 23.7 g and salt: 0.609 g
store in a refrigerator
expiry date: no .: 1 year from the manufacturing date
presentation in shrink bags packed with exclusive use for food in sizes of approximately* 600 g / 2,500 g
*being artisan handmade cheeses no piece weighs the same
---
sheep's cheese cream >> sheep's cheese 42.34%, water, sheep's milk cream, black truffle 3%, flux salts E-452, preservative E-202 and aroma · store in a fresh and dry place · shelf Life: 24 months  ·  weight of each jar: 110 g
handmade

100%

100%

pure taste

100%

100%
from the Soria region

100%

100%

ripened

80%

80%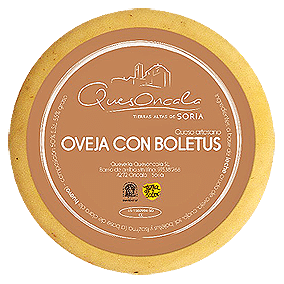 handmade SHEEP'S cheese MADE WITH BOLETUS
made with 100% raw milk from sheep, curdling agent, boletus and Lysozyme (from egg white)
composition: (Per 100 g) 50% milk solids, fat: 41.7 g, saturated fatty acids: max. 6.6 g, carbohydrates: <0.2 g, sugars: <0.2 g, protein: 25.12 g and salt: 0.848 g
store in a refrigerator
expiry date: no .: 1 year from the manufacturing date
presentation in shrink bags packed with exclusive use for food in sizes of approximately* 600 g / 2,500 g *being artisan handmade cheeses no piece weighs the same
*boletus is a type of mushroom which is big
---
sheep's cheese cream >> sheep's cheese 42.34%, water, sheep's milk cream, boletus 7%, flux salts E-452, preservative E-202 and aroma · store in a fresh and dry place · shelf Life: 24 months  ·  weight of each jar: 110 g
handmade

100%

100%

pure taste

100%

100%
from the Soria region

100%

100%

ripened

80%

80%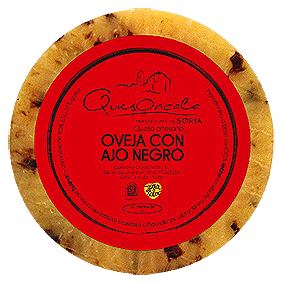 SHEEP'S cheese MADE WITH BLACK GARLIC
made with 100% raw milk from sheep, curdling agent, black garlic and Lysozyme (from egg white)
composition: (Per 100 g) 50% milk solids, fat: 41.6 g, saturated fatty acids: max. 7.2 g, carbohydrates: <0.2 g, sugars: <0.2 g, protein: 24.3 g and salt: 0.610 g
store in a refrigerator
expiry date: no .: 1 year from the manufacturing date
presentation in shrink bags packed with exclusive use for food in sizes of approximately* 600 g / 2,500 g
*being artisan handmade cheeses no piece weighs the same
---
sheep's cheese cream >> sheep's cheese 42.34%, water, sheep's milk cream, black garlic 8%, flux salts E-452, preservative E-202 and aroma · store in a fresh and dry place · shelf Life: 24 months  ·  weight of each jar: 110 g
handmade

100%

100%

pure taste

100%

100%
from the Soria region

75%

75%

ripened

80%

80%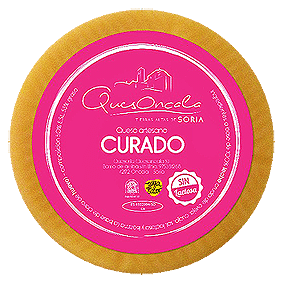 MATURE SHEEP'S cheese "WITHOUT LACTOSE"
made with 100% raw milk from sheep, curdling agent, lactase and Lysozyme (from egg white)
composition: (Per 100 g) 50% milk solids, fat: 36.4 g, saturated fatty acids: max. 6.9 g, carbohydrates: <0.2 g, sugars: <0.2 g, protein: 23.9 g and salt: 0.662 g
store in a refrigerator
expiry date: no .: 1 year from the manufacturing date
presentation in shrink bags packed with exclusive use for food in sizes of approximately* 600 g
*being artisan handmade cheeses no piece weighs the same
handmade

100%

100%

pure taste

75%

75%
from the Soria region

75%

75%

ripened

80%

80%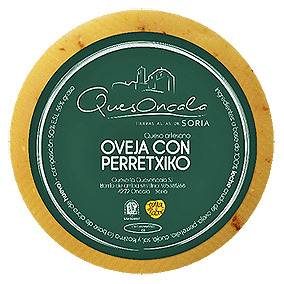 SHEEP'S cheese MADE WITH PERRETXIKO

made with 100% raw milk from sheep, curdling agent, perretxiko and Lysozyme (from egg white)
composition: (Per 100 g) 50% milk solids, fat: 41.7 g, saturated fatty acids: max. 6.6 g, carbohydrates: <0.2 g, sugars: <0.2 g, protein: 25.12 g and salt: 0.848 g
store in a refrigerator
expiry date: no .: 1 year from the manufacturing date
presentation in shrink bags packed with exclusive use for food in sizes of approximately* 600 g
*being artisan handmade cheeses no piece weighs the same
*perretxiko is a type of mushroom which is small
handmade

100%

100%

pure taste

90%

90%
from the Soria region

100%

100%

ripened

80%

80%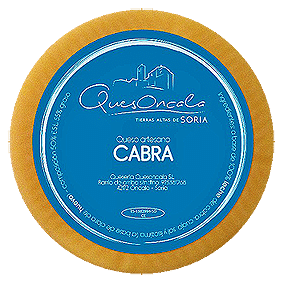 made with 100% raw milk from goat, curdling agent and Lysozyme (from egg white)
composition: 50% milk solids, 55% fat
store in a refrigerator
expiry date: no .: 1 year from the manufacturing date
presentation in shrink bags packed with exclusive use for food in sizes of approximately* 600 g
*being artisan handmade cheeses no piece weighs the same
handmade

100%

100%

pure taste

75%

75%
from the Soria region

75%

75%

ripened

60%

60%
SHEEP's cheese handmade creams



MATURE SHEEP's cheese cream >> sheep's cheese 42.34%, water, sheep's milk cream, flux salts E-452, preservative E-202 and aroma · store in a fresh and dry place · shelf Life: 24 months  ·  weight of each jar: 110 g
SHEEP's cheese MADE WITH BLACK TRUFFLE cream >> sheep's cheese 42.34%, water, sheep's milk cream, black truffle 3%, flux salts E-452, preservative E-202 and aroma · store in a fresh and dry place · shelf Life: 24 months  ·  weight of each jar: 110 g
SHEEP's cheese MADE WITH BOLETUS cream >> sheep's cheese 42.34%, water, sheep's milk cream, boletus 7%, flux salts E-452, preservative E-202 and aroma · store in a fresh and dry place · shelf Life: 24 months  ·  weight of each jar: 110 g
SHEEP's cheese MADE WITH BLACK GARLIC cream >> sheep's cheese 42.34%, water, sheep's milk cream, black garlic 8%, flux salts E-452, preservative E-202 and aroma · store in a fresh and dry place · shelf Life: 24 months  ·  weight of each jar: 110 g
With our online shop, you conveniently can enjoy our products with a click from your screen.
We entrust the management of orders to Hermeneus, a user friendly market-place platform.
About the company
Created amongst the stunning highlands of Soria, near Oncala, at 1400 meters altitude, our handmade cheeses are ripened using traditional Spanish methods from the finest sheep's milk.
Manufacturing: Daily.
Cheese made with raw milk from sheep and goat.
Handmade
More than two months of maturation in our cameras.
Shrink bags packed with exclusive use for food.
Our firm invests in R&D activities.
Queserías QuesOncala, S.L. belongs to the Association of Artisans of Castilla and Leon Food and has got the guarantee brand recognition 'Tierra de Sabor' which means Earth with flavour and it is associated with high standards.